Professor Raphael Mechoulam, The Father Of Marijuana Research, Talks About His Studies And Breaking The Law In The Name Of Science
By Adam Van Heerden, NoCamels September 24, 2013 
If you met him on the street, Professor Raphael Mechoulam might seem like any other Jerusalemite grandfather. But behind his serene smile and calming voice is the brilliant mind of the man who kick-started medical marijuana research in Israel and the world.
Since the inception of his research in the 60s, Professor Mechoulam has been nominated for over 25 academic awards, the most recent being the Rothschild Prize in Chemical Sciences and Physical Sciences in 2012.
I met Mechoulam in his office at the Hebrew University Medical Campus where he was enthusiastically preparing his next lecture, despite the fact that he officially retired over 15 years ago.
Mechoulam was born in Sofia, Bulgaria in 1930. He immigrated to Israel in 1949, after his father survived a Nazi concentration camp and his family was forced to live a pseudo-nomadic life wandering from one Balkan village to another in order to escape the anti-Semitic threat.
The Mystery of Cannabis
As a young post-doctoral student looking to make an impression at the Weizmann Institute in Israel, Mechoulam was in search of "important topics" to research. After reading the literature on cannabis he "was surprised to a large extent that while the active compound in morphine had been isolated from opium 100 years before and cocaine had been isolated from cocoa leaves at the same time, the active component of marijuana was unknown."
It was this mystery that incited Mechoulam to investigate the chemistry of cannabis in the early 60s.
"Marijuana is not an American Problem"
According to Mechoulam, "there was essentially nobody working on this at the time." With childlike amusement, he recalls being rejected for an NIH (National Institute of Health) grant on the grounds that "marijuana is not an American problem." He was told to return to them with "something relevant."
One year later the head of pharmacology (Dan Efron) at the NIH contacted Mechoulam. "Somebody important, maybe a senator" had called Efron and said, "my son was caught smoking pot, is it destroying his brain?" and in Mechoulam's words "they didn't have the foggiest idea what marijuana does."
Meanwhile, Mechoulam and his team had managed to isolate THC, the psychoactive component of marijuana. Recognising this ground-breaking discovery, the NIH then "took the world's supply of THC… 10 grams" and "smuggled it into the US." Mechoulam innocently adds, "I think they broke the law, maybe," and "for the first few years in the US, much of the research was done with the compounds they took from us." In return "they were very nice and I got a grant, which I've had ever since."
Israeli Beginnings
In a parallel occurrence, Mechoulam revealed to NoCamels that he too bypassed bureaucracy when attaining initial marijuana samples for research. "I also broke the law, I didn't know that. I took it from the police and it turns out I should have got it from the Ministry of Health… but in a small country you go over there, and say 'sorry, I apologise' and they say 'well, that's no problem'… you can always know somebody and that somebody may be a student of mine."
He recalls concealing 5kg of Lebanese Hashish on the bus ride back to the Weizmann Institute. Mechoulam highlights this as an example of a small country like Israel having more convenient conditions for cannabis research than the US. Mechoulam also assures me that since then his research samples have been obtained through the appropriate channels.
Although Professor Mechoulam did not divulge his views on recreational marijuana use he is concerned about the ratio of THC to CBD in illicit marijuana. In one of his many research papers (Cannabis—A Valuable Drug That Deserves Better Treatment) Mechoulam writes: "most of the marijuana sold illegally today in the United States actually contains no CBD, or very low amounts of it."
He tells NoCamels that he has long been stressing the importance of CBD, which modulates the effects of THC. In the aforementioned article he says "cannabis with high CBD content is associated with fewer psychotic experiences than cannabis with low CBD content, and CBD attenuates the memory-impairing effects produced by THC."
Discovering the "Joy receptors" in the brain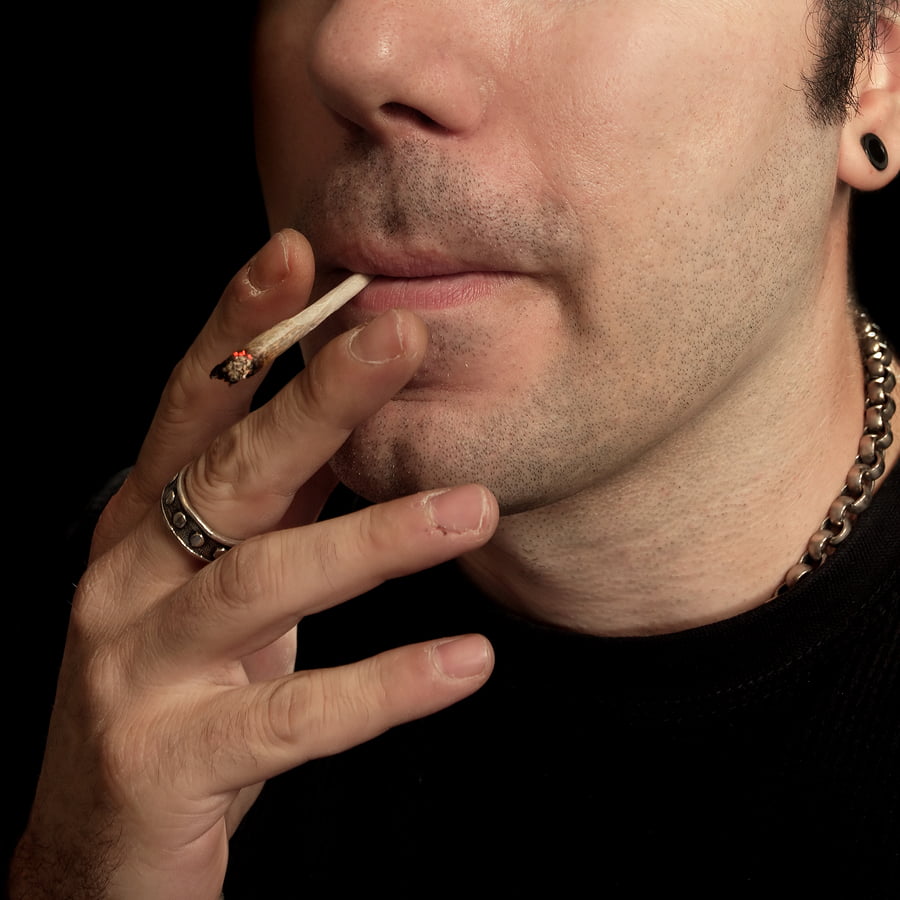 Professor Mechoulam has devoted his life to investigating the chemical constituents of marijuana. By 1963, Mechoulam and colleague Yuval Shvo, established the structure of Cannabidiol (CBD), an important component of Marijuana. CBD had been previously isolated, yet little was known about its structure.
A year later, Mechoulam and Yehiel Gaoni isolated Δ9– tetrahydrocannabinol (THC), the psychoactive ingredient in marijuana, for the very first time. They continued to elucidate the structure and synthesise THC. Over the next years, Mechoulam and Dr. Habib Edery proceeded to synthesise other major compounds from the cannabis plant.
In 1992, Mechoulam, along with Bill Devane and Lumir Hanus, identified the brain's first endogenous cannabinoid.  He explains, "a receptor in the body does not exist because there is a plant out there… we decided that the body has to have compounds that activate this receptor." And indeed they discovered a compound in the body that activates the cannabinoid receptors.  They named it Anandamide, which means supreme joy in Sanskrit. "We felt it has to do with joy…with what we feel; and we were quite happy to discover the compound." Mechoulam jests that they did not use a Hebrew name "because in Hebrew there are not so many words for happiness… Jews don't like being happy."
Two years later, Mechoulam discovered a new endogenous compound, named 2-AG, thus opening another door in endocannabinoid research. "These two compounds are the main endogenous compounds that activate these receptors and there have been thousands of scientific papers on these compounds… and the whole [cannabinoid] system." He proudly tells me that his upcoming lecture mentions current research from the NIH suggesting, "cannabinoids may be involved in all human diseases."
The Academic Man
In addition to being a crucial player in identifying the compounds of the cannabis plant and the endocannibinoid system, Mechoulam has investigated the therapeutic application of his research. He discusses experiments in which he administered THC to children undergoing chemotherapy and claims that they were able "to eliminate vomiting and nausea completely." Despite the success of the experiment, such treatment is generally not given to children.
Furthermore, Mechoulam's research that suggests CBD is effective in the treatment of epilepsy (at least in animals) has never been repeated. To this Mechoulam simply says to NoCamels, "c´est la vie." He "hopes that something will happen in this field" but remains acutely aware that "an academic person is not an industrial person."
The Family Man
Despite his fruitful career Mechoulam is not all business. "I spend much of my free time with my family. I tell stories to my grandkids (aged four to 22) and they love to stay with us. We have dinner together every Friday night. We all enjoy it." Mechoulam also takes pleasure in reading history, even though he is uncertain whether this can be defined as a hobby. What is certain however is that Raphael Mechoulam will go down in history as a pioneer in the field of cannabis research.
Main photo by: Tzahy
Marijuana photos: Medical Marijuana and Smoking Marijuana by Bigstock